THIS PAGE IS ALWAYS UNDER CONSTRUCTION, SO PLEASE VISIT AGAIN.
SHORT HISTORY OF THE TIN SOLDIER SHOP (BELGIUM).
The first Belgian wargames shop - the roots of the Wargaming Hobby in Belgium.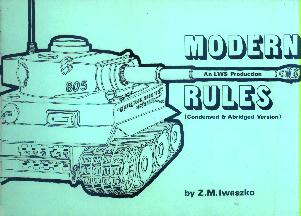 During a shopping trip for plastic models (disguised as a family-holiday) to London in 1973, I picked up some books about armour, camouflage and such as well as a little booklet with a Tiger-tank on the cover, titled "Modern Rules" (1967) by a certain Z.M. Iwaszko. This (unfortunately "condensed & abridged version") could just as well have been in Chinese! For months I tried to work out the game mechanics that were behind it, but having no notice about wargaming (the name of the game) at all, I utterly failed. The next year I went back to the British capital and came home with a copy of "Battle! practical wargaming" by Charles Grant and some white metal 20 mm German WWII guns by Hinchliffe (expensive compared with plastic kits, but the range included some models not available in plastic). At that time I was building a giant WW II diorama (of about 4 m²) and after reading Grant's excellent book, I suddenly realised that I was really more interested in a "moving"- than a "static" diorama... The modeller in my had been converted to a (lone) wargamer! In 1975 I learned about "Tomker-The Antwerp Model Soldier Shop" which I promptly payed a visit and where I bought some 25 mm Lamming- & Hinchliffe Napoleonics. Through the kind and helpfull owners of the shop (Tom and Jacky) I came into contact with a couple of guys running the "Ancient Battlegaming Club" (ABC). I joined up and promptly became editor of the club-magazine "Sarissa": not much of a job with less than 10 members! Another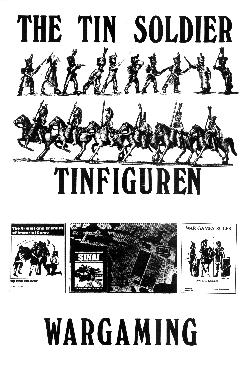 problem we encountered was the fact that Tomker did not stock Miniature Figurines because of the fact that these figures had to be bought (tradewise) in boxes of 10, and - with a very small number of wargamers as potential customers - this would mean that the shop would be stuck with hordes of officers, trumpeters etc. The ABC-members therefor decided to (in turns) ferry to England to buy Miniature Figurines directly from the Southampton factory (the London Minifigs/Skytrex shop did not yet exist at that time). During one such visit, Neville Dickinson - always keen on trade - noticed this Belgian guy buying a big hump of Minifigs-castings at the counter. Neville asked him whether anyone in Belgium might be interested in distributing his products. This question was transferred to the ABC'ers, and since I was planning a parttime business anyway - in Japanese furniture, no less! - I promptly switched to little lead soldiers instead. Operating from my home with a limited stock at first, I tried to interest some modelshops in the subject and also contacted SPI (UK) (Malcolm Watson), Skytrex ltd (John Hammond) and WRG. It was simple enough to get the distributorships of these companies, but a (at that time) rather expensive catalogue "THE TIN SOLDIER-TINFIGUREN-WARGAMING" (in black&white) had to be produced in order to boost sales. Since the shops were not interested in offering single figures, the Minifigs 25 mm Napoleonics and Ancients were re-packed in "Tin Soldier sets" (some boxes with command groups and others with rank & file) not unlike the idea of the later blister-packs. After a while, the small but growing market started to ask for more diversity than the modelshops could carry (as well as individual figures) and, solely to fulfill that need, a specialist (part-time) wargameshop by the name of "The Tin Soldier" was opened at Kokkelbeekstraat 181, Sint-Niklaas, Belgium. The shop stocked the complete ranges of Minifigs, Skytrex, SPI and a lot of other lines. No outlet in the U.K. carried such vast quantities: a MUST to keep the customers from taking their business across the Channel! Meanwhile, the company also had started to import the resin diorama sets made by Mainly Military. Since this range included a fair number of 20 mm WWII-items, the hobby shops we were trading with were REALLY interested, but sadly our supplier could not cope with the demand. So we started designing and casting along the trial and error path ourselves, assisted by a local resin-manufacturer. Shortly thereafter, the "Gedemco"-range of 15 mm, 25 mm and 1/300th scale buildings was born and Miniature Figurines (25 mm & 15 mm) and Skytrex (1/300) started to distribute the ranges in the U.K. Later Skytrex took over in full, and a U.S.- ("SGS" or "Skytrex Gedemco Simulations" - with Al Younghouse) and an Australian distributor were found. Finally, the range was distributed in the U.K. by "Farms & Fortresses". Some of the buildings were even used in a James Bond-film! The premises of the Gedemco-workshop (where the models were produced) also housed "The light Brigade" wargames club (+ 30 members) for some years. Meanwhile, the number of Belgian customers had grown, but by 1981 we realised that (despite all our efforts) we could not make a proper living out of the operation. Perhaps it would have been different if Internet had been around at the time or if we had started the business a few years later, during the fantasy-boom... Anyway, the shop went on operating (back to "saturdays only") untill 1990, when it finally closed down. We put the building itself (still containing huge stocks of figures and games) up for sale, but it eventually vanished in a blazing fire that started in the barber shop next door. Both the barber shop and The Tin Soldier were demolished to make room for the family home of a young couple.
The very first white metal wargames figurine I ever bought: a Lamming 25 mm French Voltigeur. It got me hooked and many thousands would follow (as well as the business)...

This photo dates from 1976 and shows Yours Truly (on the left) and - now veteran wargamer - Danny Huys (on the right) demonstrating an Ancient Wargame as members of the Ancient Battlegaming Club (ABC).

Inside the Tin Soldier Shop (1977-1978) looking from back to front. In the centre is the wargames-table (boot-camp for a lot of new recruits in the early days.)

---

The front of the Tin Soldier Shop near the market-place in St-Niklaas (Belgium), shortly after it started to operate, somewhere in 1977.

Inside the Tin Soldier Shop (1977-1978) looking from front to back. Not yet overcrowded with stocks at that time, the shop had a nice classic look.

The Minifigs 25 mm command figures (all ranges) were eventually stocked in these purpose-made cabinets. A (privately made) model of "the Black Gate of Mordor" is visible at the top.


---

Ancient battle in progress on the table. On the shelves there are one each of the 25 mm Minifigs Napoleonic range, books and early SPI-games on display.

The very first 25 mm resin cast GEDEMCO-building: a small farmhouse and yard.

The storeroom in the back of the shop (1977). Later, more shelving was added there and on the first- and top floor as the complete ranges of Miniature Figurines, Skytrex etc (in total more than 20.000 references) were added.

---

The second 25 mm buiding by GEDEMCO: a barn as a companion to the farm house above. Eventually, the range would consist of hundreds of models in 25 mm-, 15 mm- and 1/300 scales.

Another very early example: a Waterloo-farmhouse in
25 mm scale, a heavy monobloc-casting with shallow detail (GEDEMCO).

One of the last models produced: no longer monoblocs, but true kits in several parts, all with removable roofs. This one is a Medieval/Fantasy inn, one of a series of town buildings. (GEDEMCO).

Since we've always been true Tolkien-fans, we also included 3 hobbit-houses in the 25 mm fantasy-range. Here is one of them in a diorama with the 25 mm Fellowship of the Ring from Heritage.

Another kit from the "town-building" range: this model was designated "townhall", but could certainly serve other purposes as well. the 25 mm Minifigs is for size reference.

Interior detail (assembled straight from the box, upper floor and roof removed) of the inn shown above (GEDEMCO).

15 mm ACW CSA ironclad "General Hayes" (GEDEMCO).

Early 15 mm Napoleonic farm casting (in 2 parts) with base-plate (GEDEMCO) (The Northern Conspiracy Homepage).

Earliest 15 mm Napoleonic farm monobloc casting with base-plate (GEDEMCO) (The Northern Conspiracy Homepage).